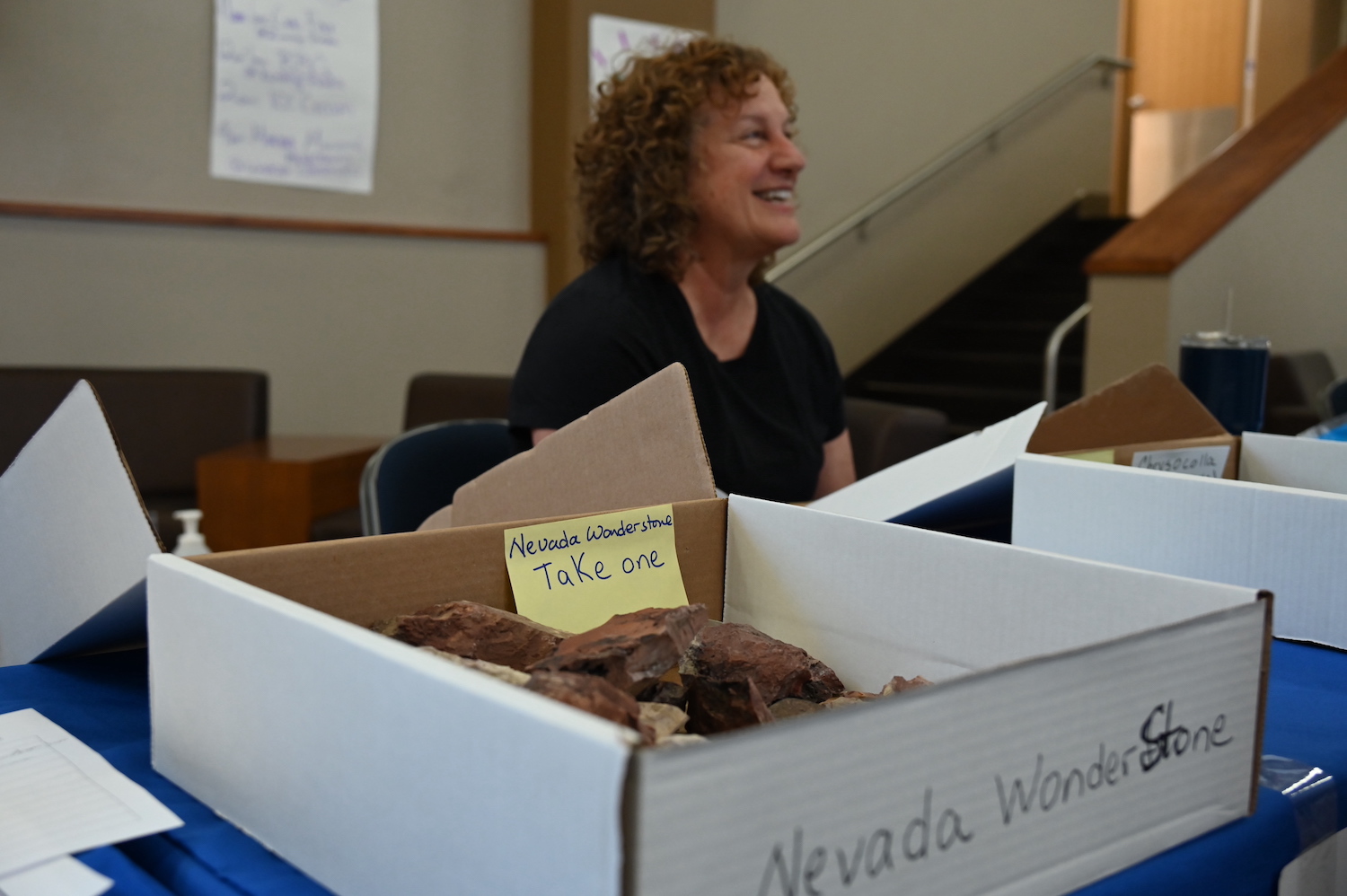 Western Nevada College program ranked 9th in the United States
Geoscience professor Dr. Winnie Kortemeier handed out 'wonder stones' at the Welcome Back Week club fair.
A higher education consulting organization has recognized Western Nevada College's online graphic design certificate program among the top 10 in the United States.
Student Navigating Education ranked WNC ninth in the nation among online graphic design certificate programs.
"I strive to keep the curriculum up-to-date and relevant," said WNC graphic design professor Jayna Conkey.
Other colleges and universities ranked in the top 10 include the University of Massachusetts-Lowell at No. 1, Southern Methodist University at No. 2, and the University of Texas at Austin at No. 3.
To learn more about WNC's honor for its Graphic Design Program, go to https://successfulstudent.org/online-graphic-design-certificate-programs/.
The successful student serves as a source to help students make education meaningful and meaningful. Its goal is to help students navigate the higher education landscape. Successful Students provides students with an online resource for informed college and degree rankings.
For more information, contact Conkey at [email protected]….
(In the gallery below, the posters were created as part of WNC's Graphic Design program, which was recently recognized as one of the top 10 online graphic design certificate programs in the country. The name of the artist appears under the poster.)

Open enrollment courses offer flexibility
For the current fall semester, students can enroll in open-entry classes until the ninth week of the semester.
Flexible registration deadlines for open-entry courses allow students to work at a pace that will guarantee course and assignment completion.
Some of the open-entry subjects WNC currently offers include Applied Industrial Technology, Anthropology, Aviation, Construction Management, English Language, Environmental Science, Electronic Technology, Information Systems , mathematics, music, leisure and physical education, philosophy, political science and psychology. For courses offered in these areas and course descriptions, go to https://www.wnc.edu/class-schedule/?sorter=open#class-schedule-row.

The nursing program welcomes 56 students
Nursing & Allied Health welcomed 56 students into its nursing program with an orientation day late last month.
Admission to the two-year Associate of Applied Science in Nursing program is an accomplishment. There were 101 qualified applicants this year.
Students who apply are ranked according to a points system. Points are earned for their grades in prerequisite and co-requisite science courses, as well as other necessary courses taken prior to admission. Applicants also receive one point for being a resident of Nevada.
Because science courses are weighted more than others, WNC Nursing & Allied Health Acting Director Deborah Ingraffia-Strong recommends students retake them to get the highest grade possible. Grades below "C" are not accepted.
Although the curriculum for the program is the same this year, instructors and professors will incorporate new Laerdal high-fidelity simulation dummies provided through grants.
"Models are breathing, sweating and blinking," Ingraffia-Strong said.
Between the second and third semesters of the program, many nursing students are hired at the clinical sites where they train.
"Due to labor shortages, many employers have increased their number of nursing apprentices," Ingraffia-Strong said. "As apprentice nurses, they can do a lot, like give medications while they work as nurses within the framework that the Nevada Board of Nursing has set for them."
Two new instructors help students reach their potential: Susan Ward and Irene Jen Schiller. Ward returns as a full-time instructor to fill Ingraffia-Strong's position, and Schiller has a background as a working nurse, including serving in a New York City emergency room during the health pandemic.
Nearly 97 percent of graduates who successfully obtain their Nevada RN driver's license immediately.
For more information, call 775-445-4425 or email [email protected]

Apply for the Nevada Promise Scholarship by October 31
The Nevada Legislature has funding available through the Nevada Promise Scholarship to cover tuition and other mandatory fees, which is a savings of over $3,000 per year. The scholarship provides support for up to three years to students who apply and meet the requirements to receive the scholarship.
Nevada high school students graduating in the spring of 2023 must apply for the Nevada Promise Scholarship by October 31.
For more information, contact [email protected]