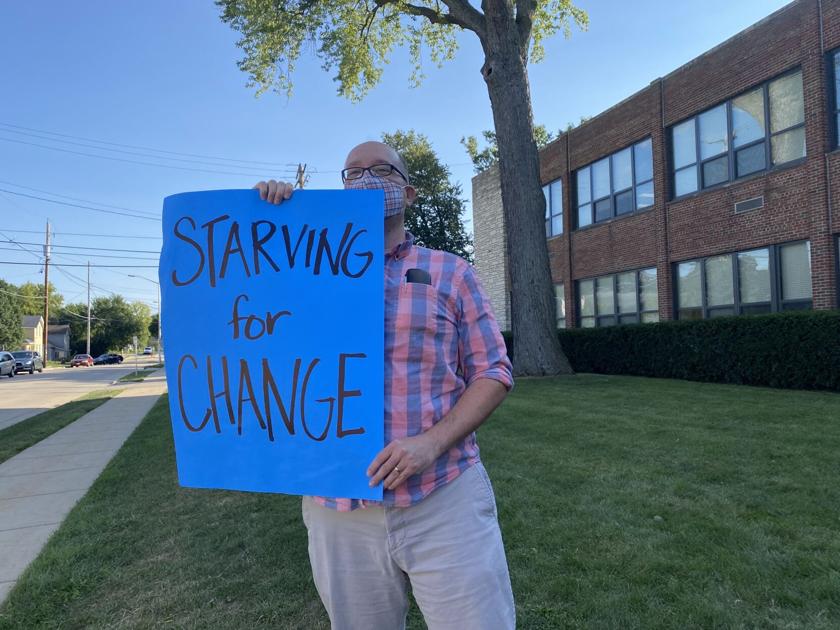 Waukesha School Board Changes Meal Program Plan | New
WAUKESHA – The Waukesha School Board voted 5-4 Monday to enroll in the Seamless Summer Option meal program rather than the national school meal program to which it was slated to move.
The move came after public outcry and criticism over meal plans for the upcoming school year. Parents and students gathered outside the district administration building on Friday to advocate for the Seamless Summer Option free for all meal plan. Some have also expressed concern about SSO, saying it offers free meals to those who don't need it.
The national school meals program still offers free and discounted meals, but families must register. The Seamless Summer option offers the distribution of meals to students and the community at no cost, regardless of socio-economic status.
The administration proposed Monday to overturn June's decision to revert to the national school meals program and to enroll in SSO instead for the next school year. Superintendent Jim Sebert said the rationale behind this recommendation is that it could better help children in need and because there are families who would not qualify for a free / reduced lunch under the national program. school meals, but still struggling.
School board president Joe Como said the special meeting was called at the request of board members Corey Montiho and Greg Deets.
The previous rationale for the district and school board to re-enroll in the national school meals program was, among other things, a decrease in the rate of completed requests for free or reduced meals. This data point is useful when it comes to district decisions about fee adjustment and is used to determine funding for educational programs that assist students.
Board member Patrick McCaffery was reluctant to return to SSO, citing declining completion rates for application forms.
"If you don't fill out these forms, the title funding is affected," he said. "And I know for a fact that we have had families in this district who have been affected by the pandemic (and) these families for the most part are not filling out the forms. And they will not get the services and benefits that come with these. forms. This was our concern at F&F [the Finance & Facilities Committee]. "
McCaffery said if there was a move to SSO, he needed reassurance that the forms would continue to be filled out again so that funding was not lost.
Deets said he was reassured the district would have a full year to make sure he can do this and the forms are completed.
Board members sharply criticized the way some behaved ahead of the meeting. "This motion is presented to the Board of Directors to act because of the intimidation and threats that every member of the Board has received," said Anthony Zenobia, Board Member.
Montiho said he had suffered threats against himself and his family. Other board members also said they were bullied, including Kelly Piacsek and Karin Rajnicek.
"The Washington Post put a horrible headline behind a pay wall and posted it on Twitter. Shame on them," Piacsek said, also adding "we don't need papers for high-income families… This isn't is not a local control. "
Lawmakers also weighed in. Assembly Rep. Scott Allen, R-Waukesha, said changing the meal plan would be tantamount to capitulating to a crowd while Rep. Robyn Vining, D-Wauwatosa, criticized the council's previous decision in June.
Deets said the discussion is a reminder of the scope of the board's choices. "The truth is, a lot of our students are hungry throughout the school day and we have the capacity to do something about it," he said.
Montiho said there are people who have paid for the negative balances for children's school meals, and suggested those who criticized the council do so as well. "Put your money where your mouth is," he said.
School board member Amanda Roddy said when the board voted for the national school lunch program in June, circumstances were believed to be returning to normal. "We have cracks, we have gray areas," she said, adding that more work will still be done.
"A lot of the community has responded with emails and voicemails that they want this program," said Bill Baumgart, board member.
Como said he believes it is important that all children are fed, but also that SSO should not exist forever for the district.
"We have to work feverishly to develop the things we all thought could be done in June," he said. "I just didn't think it could be done immediately… I think we need time to do it."
The board will meet again on September 15th.
How they voted
Sign up for the Seamless Summer Option meal plan
Bill Baumgart – Yes
Joe Como – Yes
Greg Deets – Yes
Patrick McCaffery – Yes
Corey Montiho – No
Kelly Piacsek – No
Karin Rajnicek – No
Amanda Roddy – Yes
Anthony Zenobia – No