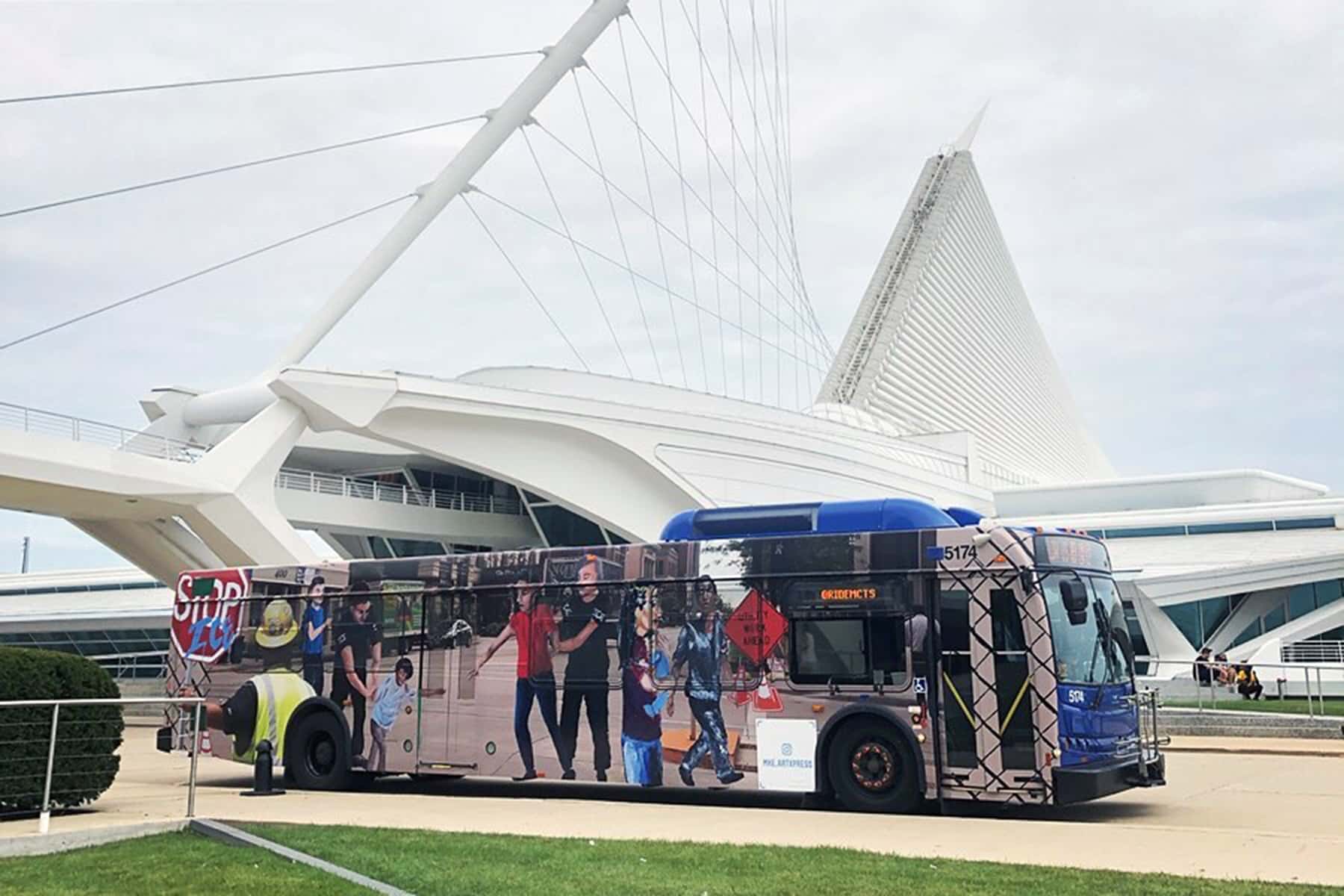 Teen ArtXpress Program Students Design Anti-ICE Mural for MCTS Bus Advertising
[ad_1]
As part of the Milwaukee Art Museum's Teen ArtXpress internship program, area students created a design to cover a bus in the Milwaukee County transit system. The decoration was unveiled on August 11, with an anti-immigration and customs enforcement theme.
Covering the entire bus, the illustrations featured the message "Celebrating 160+ Years of Dreamers: Milwaukee is a Strong Immigrant" and portrayed a message of resistance against Gestapo-style tactics used by the federal agency.
MCTS issued a statement clarifying that the bus mural was paid advertising and did not necessarily reflect the views of the transit service. But it supported the position that art was a reflection of freedom of expression, and the subject matter presented in the design showed what was on the minds of the young people who participated in the museum's program.
"The MCTS approved the design of the paid advertising for the Milwaukee Art Museum," said Matt Sliker, director of integrated marketing for the Milwaukee County Transit System. "Each year, the Milwaukee Art Museum purchases advertising space on a bus to display their completed teenage artwork. Plus, they pay for the bus to park at their unveiling event so teens can take photos of their work. We reviewed the content and it met our standard advertising guidelines. "
In its 18th year, the Teen ArtXpress program worked with a diverse group of 18 young people from over a dozen schools in the Milwaukee metro area, aged 16 to 18. Activities included creating art with professional artists, organizing tours of exhibitions at the museum, leading art activities in the community and participating in the "Craft for a Greater Good" program.
The final project the teens created was a mural that would be placed somewhere in the community. Usually, it was installed on a bus or bus shelter, and it is paid for with the museum's advertising dollars. While the museum does not support or condone any political messages, it also does not censor artists.
"The teens were encouraged to use the bus space to cover a topic close to their hearts, drawn directly from their personal experiences. They unanimously chose to focus on the topic of protecting their friends and neighbors from deportation and entered the program deeply concerned about this issue. It was not a topic suggested or assigned by museum staff, "the Milwaukee Art Museum said in a statement. "We hope that the attention around this work of art can lead to conversations about how art can foster important conversations and bring people together around difficult issues in a constructive and positive way."
[ad_2]