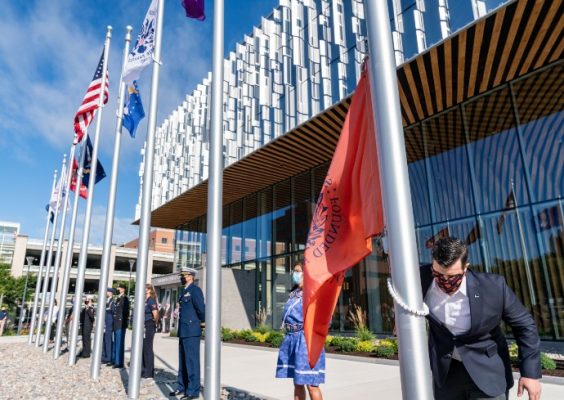 Pre-College Program Announces 50% Discount for Native American, Indigenous and Military High School Students |
Syracuse University continues its commitment to welcoming and celebrating a diverse student body by providing financial incentives to students from diverse communities who attend summer collegethe University's nationally recognized pre-college program for high school students.
"Educational opportunities such as Summer College are essential and necessary for young people to realize their inherent potential as individuals and as citizens," says Michael Frasciello, Dean of the College of Professional Studies. "Summer College introduces them to the transformative power of a college education."
Syracuse University, whose campus is on the ancestral lands of the Onondaga Nation, the fire keepers of the Haudenosaunee, is committed to empowering and supporting Native American and Indigenous students. As part of this extended commitment, the College of Professional Studies has created a 50% discount on Summer College tuition for students from any Indigenous tribe or nation. The Indigenous Student Discount will help make Summer College a viable pre-college route for high school students who will later access the Haudenosaunee Promise Scholarship, Honor Scholarship and Indigenous Scholarship of the University, all designed to help make education in Syracuse affordable for Indigenous students.
Continuing the University's distinguished legacy of leadership in serving the needs of our country's veterans and military-related communities, Summer College will now offer military-related high school students an increased tuition reduction by 50%, against 20%.
"Expanding financial support to pre-college-aged children of veterans, active military, guard and reserve members is another example of our institutional commitment to those who serve and have served," said said Frasciello.
After celebrating 60 years of Summer College in 2020, the program has evolved in many ways. In 2020 and 2021, Summer College offered its entire portfolio of summer courses online due to COVID-19 restrictions. Going forward, Summer College will offer students on-campus, online, and hybrid experiences, as well as on-site programs for suburban students in New York and Los Angeles.
From July to August 2022, high school sophomores, juniors, and seniors can experience college life on campus, online, or in a hybrid format during six-week, three-week, or two-week sessions.
High school students from more than 50 countries and 45 states have enrolled in a pre-college program, and 98% say their experience prepared them for college life and beyond.
"Students not only learn what it's like to be a student, they leave the program with more confidence, enthusiasm and a sense of being ready for college," says Christopher Cofer, Executive Director of the Office of Pre-College Programs. "This year, students can choose from over 100 courses in one of our pre-university programs.
"Many students graduate from Summer College with a new sense of themselves and a new perspective on the world. At the end of Summer College, students often tell us that they had no idea what the experience would mean to them and the impact it would have on them when they were often just two weeks away. forward," says Cofer.
Applications for the Summer College are open until May 1, 2022. For more information, visit pre-university.syr.edu.