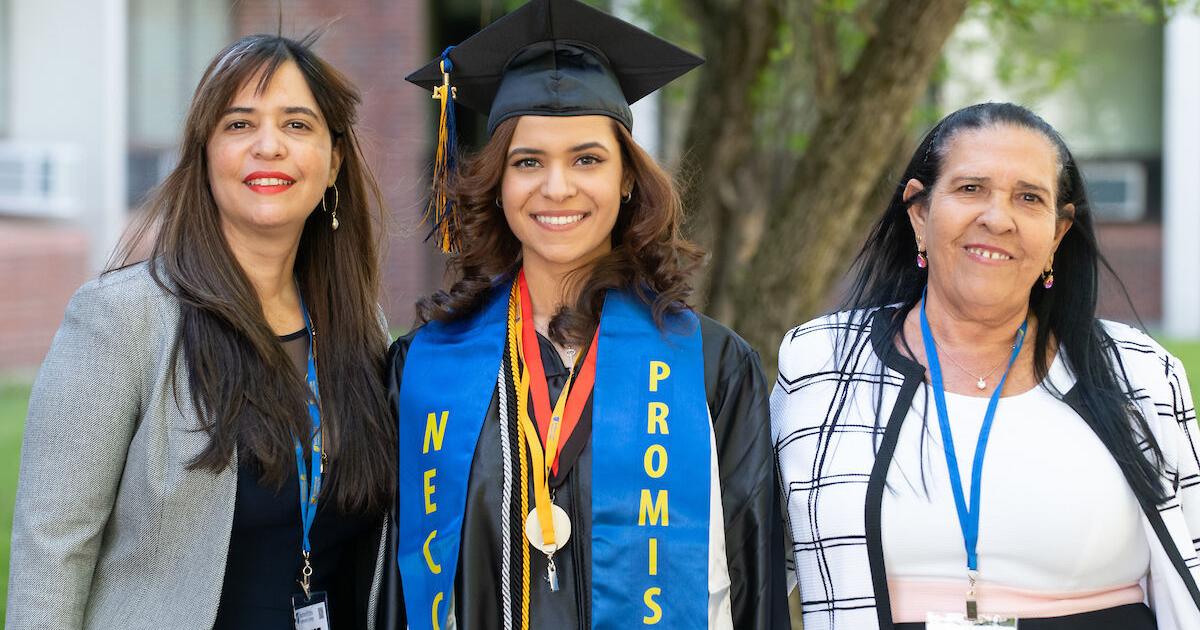 NECC Early College Program Gains Popularity | Local News
HAVERHILL — With many high school students and their families wondering how to pay for college, Northern Essex Community College and the state are offering a solution that university officials say is exploding in popularity.
Early College – which allows high school juniors and seniors to simultaneously attend college classes and earn credits that they can then transfer to participating four-year colleges or universities – grew from 283 students enrolled in 2018 to 693 this semester.
Abiel Mendez, a senior at Haverhill High School, said Early College was how he got a good start in his studies while making college more affordable.
"Saving money is a huge thing for me," he said. "Early College also provides me with various supports including tutoring and academic counseling."
NECC is one of 19 colleges and universities participating in the Massachusetts Early College Initiative and offers programs with Haverhill High School, Lawrence High School, and Whittier Regional Vocational Technical High School.
Students at these schools receive free tuition and fees funded by the State Department of Elementary and Secondary Education.
Mendez began taking classes at Northern Essex in his freshman year, during which he earned 15 college credits. By the time he graduates from high school in June, Mendez will have accumulated 27 college credits — the equivalent of one year of an associate's degree program.
"I plan to continue my education at Northern Essex and eventually study aerospace engineering at UMass Lowell or another university," Mendez said. "I wanted to get off to a good start to get my dream job and start my life."
Early College students at Whittier Tech take college classes at their school, while Lawrence High students ride to and from NECC's Lawrence campus for free. Haverhill High students enjoy free transportation to and from the college's Haverhill campus.
As a bonus, graduates of Haverhill High and Lawrence High Early College are eligible to apply for the NECC grant-funded Promise program, which covers costs including tuition and fees, textbooks and a laptop.
Students who take advantage of both programs may end up earning an associate's degree for free and transferring for their junior and senior years, college officials said.
This is what Mariel Bloise did.
The 2019 Lawrence High graduate enrolled in both programs and graduated from NECC in 2021 with an associate degree in biology. She is continuing her education at UMass Lowell.
Bloise said her goal is to go to physician assistant school after she gets her bachelor's degree.
"It was a blessing to me and my family," she told college officials of the Early College and Promise programs.
Haverhill High is the NECC's largest partner with 173 students enrolled in Early College, said Dianne McCarthy, a Haverhill High college and careers counselor who oversees the program.
"We also have 53 sophomores enrolled in freshman seminary, which all colleges now require and provide for three credits and are taught by a NECC teacher in high school," she said.
Lawrence High has 152 students enrolled in Early College and Whittier Tech has 160 enrolled.
At Haverhill High, Early College students finish their high school day at 11:47 a.m., with most attending the NECC four days a week. They have lunch in the high school cafeteria before being transported to the Haverhill campus of the NECC.
"Abiel's two English courses for junior and senior years in North Essex count towards his high school graduation requirements, which is why these students can finish their day early" , McCarthy said.
Additionally, the NECC partners with 21 other high schools that offer reduced tuition for a three-credit course. In some cases, grants are available or the high school will help cover the costs, otherwise they pay for themselves, but it all depends on the school, college officials said.