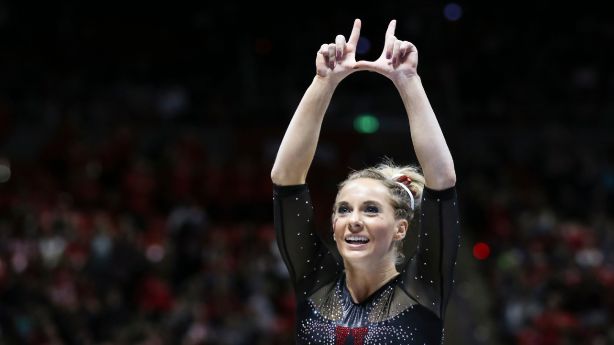 MyKayla Skinner announces her departure from the program and her intention to continue with the 2020 Olympics
This news archive is available for your personal, non-commercial use only. The information in the story may be out of date or replaced with additional information. Reading or replaying the story in its archived form does not constitute re-editing the story.
SALT LAKE CITY – University of Utah gymnastics junior MyKayla Skinner will be leaving the program to compete at the 2020 Olympics, she announced Thursday.
"I love competing for the University of Utah and I am very grateful to my coaches, teammates and the 15,000 fans who come to support us every game (at home)," Skinner said in a statement. "During my three years in Utah, I grew and matured as a gymnast, improved my form and refined my technique. Although I love college gymnastics, I would like to try to compete for my country.
"I see the opportunity to seek an Olympic berth as a chance of a lifetime. If things don't work out for some reason, I plan to return to the University of Utah for my final year. "
Skinner was invited to attend the national team camp in June, where she will aim for a spot among the five women to represent the United States at the 2020 Olympics in Tokyo, Japan.
Despite a fourth place finish at the 2016 Olympic Trials, Skinner was adopted for the five-woman team and selected as a substitute.
"MyKayla is a world class gymnast and we support her desire to test the waters of her international career resumption," Utah head coach Tom Farden said in a statement. "She has the opportunity to go to national team camp and qualify for the American Classic and beyond.
Farden added that the team "keeps a spot on the list open" for Skinner if she returns this fall. "Obviously we would love to see her again for her senior season."
Skinner is a two-time NCAA champion and was the 2018 vault champion and 2017 floor champion. She was an all-around finalist for both years. She performed the toughest routines on floor and vault in college gymnastics and holds the NCAA record for routines performed without a fall (161).
This is what Red Rock @ MSkinner2016 has to say about his decision to seek an Olympic place! #Dripspic.twitter.com/UmQ6DrUqVf

– Utah Gymnastics (@UtahGymnastics) April 25, 2019
×
More stories that might interest you