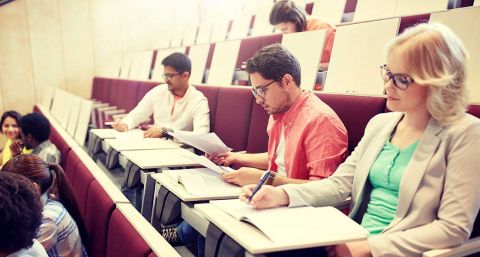 Michigan's New Free Community College Program: What You Need to Know
July 19: Deadline approaches for thousands of Michigan residents to receive free classes
May 22: Back to school: Michigan's free tuition program attracts 70,000 people
Update: Michigan has announced a free community college. Nearly 170,000 applied.
In what has been described as the largest effort in state history to increase college achievement, Michigan Governor Gretchen Whitmer on Tuesday unveiled a program promising free community college tuition to residents. 25 years and over.
Whitmer said about 4.1 million of Michigan's 10 million people are eligible for Michigan Reconnect. Just under 3 million eligible people are of working age, between 25 and 64, according to census data.
"All Michiganders deserve a path to well-paying employment, whether they choose to pursue a college degree, technical certificate or apprenticeship," Whitmer said during a virtual press conference Tuesday announcing the program.
Related:
The Whitmer administration aims to increase the percentage of working-age adults with a college degree or 49 percent to 60% by 2030. The current national average is 51%.
Here's what to know about the program, which costs the state $30 million:
What is Michigan Reconnect?
Launched Tuesday, Michigan Reconnect is paying community college tuition and compulsory fees for Michigan residents over the age of 25.
The program also offers scholarships of up to $1,500 to help cover tuition costs for over 70 private training schools with 120 programs that offer certificates in high-demand careers in industries such as manufacturing, construction, information technology, healthcare, or business management.
Who is eligible?
You must be a Michigan resident for at least one year, have a high school diploma or equivalent, and not have previously graduated from college. Current students are eligible, as well as those who have never set foot on a college campus or who stopped taking classes before earning a degree.
Why is this important?
Michigan is below the national average for the percentage of adults with college degrees, hampering state attempts to attract business and suppressing revenue.
More education usually means higher salaries. According to data from US Bureau of Labor Statistics.
One in four Michigan adults has some college credits but no degree. Making community colleges free could entice adults who keep putting off getting a degree to return to campus.
"It's a big deal," said Ryan Fewins-Bliss, executive director of the Michigan College Access Network, a nonprofit that works to improve college access and affordability. "It's amazing that people who felt left out of higher education now have an opportunity."
How many people are likely to apply?
A similar program limited to only pandemic essential workers, called Futures for Frontliners, attracted 120,000 applications. This larger program will likely attract hundreds of thousands of applicants, Fewins-Bliss said.
Will going to university cost nothing more?
The program pays tuition and compulsory fees. Students will likely still have to pay for books, as well as things like transportation to and from class (if classes are in person).
Should I apply immediately?
Applications began on Tuesday. There is no deadline.
How long does the benefit last?
Both full-time and part-time students are eligible for Michigan Reconnect. Students are eligible for the benefit for up to four years after enrolling in their first class using Michigan Reconnect funding.
Who pays for this?
The average tuition and compulsory fees at community colleges in Michigan are around $4,000 per year, but the cost varies wildly from student to student as many community college students only take one or two classes at a time.
The state has set aside $30 million for this budget year's program. The majority of tuition will likely be covered by Federal Pell Grants, which are college money that doesn't have to be paid back, available to low- and middle-income families.
Pell Grants cover up to $6,195 per year for students from families with adjusted gross income of $26,000 or less. Students earning up to $60,000 are eligible for smaller Pell Grants.
Students who are ineligible for Pell grants because they earn more than $60,000, or who have tuition more than Pell will pay, will have the difference paid through state-funded Michigan Reconnect .
Community colleges can help students achieve a Free Application for Federal Student Aidwhich determines eligibility for Pell Grants.
When will these funds be available to pay tuition?
Those applying soon may be eligible for tuition this summer.
Will Michigan Reconnect pay for two years of a four-year university rather than a community college?
The program is only available to students at state community colleges and some vocational training centers. Students can, however, earn community college credits that can be transferred to a four-year school.
Has this been done elsewhere?
Tennessee has been running a similar program since 2014. There, between 16,000 and 17,000 students enroll in the university each year through the free tuition program.
Is this a program that will disappear when a new administration takes over the governor's office?
Michigan Reconnect may be safer than some of the Democratic governor's other initiatives because it has bipartisan support.
The program is funded for this year, but Whitmer was joined in his Tuesday announcement by Ken Horn, R-Frankenmuth, who leads the committee that would allocate future funds for Michigan Reconnect.
"It will be a high priority" on his committee, promised Horn. "The ability to find highly qualified and competent employees is more difficult than ever."
John Walsh, CEO of the Michigan Manufacturers Association, also welcomed the initiative. "It's in every way a win-win for everyone," Walsh said at the press conference. "It allows our citizens to upskill and get promotions and allows employers to fill positions."
Tennessee Reconnect has similarly broad and bipartisan support.
What is the biggest concern about the program?
Getting adults into college is great, but it doesn't mean they'll get a degree.
Lou Glazer, president of the Ann Arbor-based Michigan Future think tank, warned that tuition is just one barrier to earning a degree. "A lot of adults, the reason they don't finish school is other life issues, they're raising kids, working. So you have to structure a program so that they can lead their lives.
"Second, there are real financial costs beyond tuition, such as books and living expenses. And third, a lot of people aren't academically ready to go back to school, and schools aren't great at taking people who have basic academic issues and getting them to a degree.
"You have to fix all the problems (for the program) to succeed," Glazer said.
How to apply?
You can apply here.