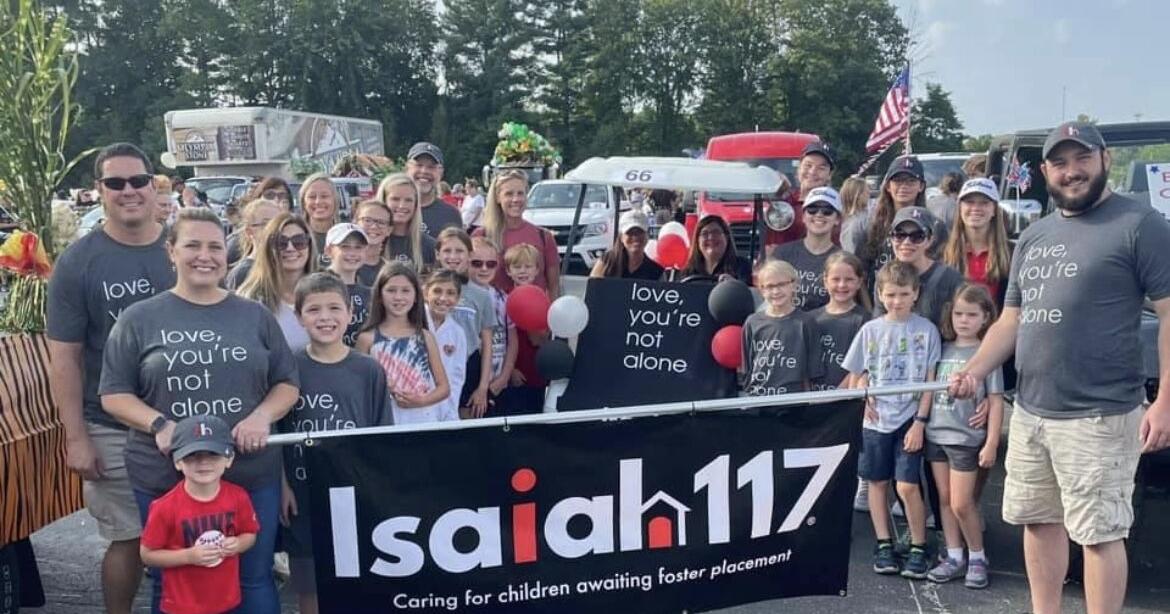 Isaiah 117 Welcomes New Program Coordinator | Across Indiana
Isaiah 117 House is currently under construction in Whitestown and the non-profit recently welcomed a new program coordinator, Laura Wiggs.
Although Wiggs has no professional training, her love for children speaks volumes.
"Most people have Department of Children's Services (DCS) or foster care training — I don't," Wiggs said. "I am a mother of three children and grandmother of seven children and when my youngest was 6 months old my husband fell very ill. For the next 25 years I became a goalkeeper and that left me little time to do anything else. I had prayed to know what I should do next and God just told me it would be with children. I went to a kick off meeting on Isaiah 117, cried, got involved, and served on the planning committee for a year.
When the former coordinator moved on to another position, Wiggs was an obvious choice.
"Children have always been dear to my heart and this is my chance," she said.
The Isaiah 117 House is a program started by Ronda Paulson in Elizabethton, Tennessee. One thing led to another, and today, dozens of homes are popping up across the Midwest.
When a child is removed from a home by DCS, they are often taken back to an office where the social worker spends from a few hours to overnight to process paperwork and find foster care placement.
The children are often dirty, have clothes that are too small or have holes in them; they may have a trash bag with a few items or nothing at all.
The social worker does his best to put the kids at ease, but what is probably the scariest day of their lives, they don't have the resources to do what we would want for our own kids.
This is where the Isaiah 117 house comes in.
Instead of returning to an office, the children and the social worker can stay at the Isaiah 117 home for as long as necessary.
"Once the house is finished, they can call us and we'll contact a group of volunteers, open the house and get things ready," Wiggs said. "We want to welcome these children and love them. We can prepare a hot meal for them, if they want to take a bubble bath, they can play with the toys or go to rest in a room.
Each child chooses three new outfits, as well as pajamas, underwear and socks. They receive a new set of toiletries and a new suitcase. Not only does this give the child the confidence to approach a new situation with their head held high, but it also gives the foster family a chance to make the transition.
While the house is in the construction phase, the non-profit organization continues to receive the blessings of all those involved in the community.
Traci Robinson, state manager of Indiana's Isaiah 117 House, said framing of the house has begun, volunteers are bringing food to frontline workers, and Universal Roofing's contractor will do donation of the entire roof, among other materials.
Rob Yeary knows exactly how kids feel on moving day.
Today he owns Universal Roofing and Exteriors, but as a child he was eventually taken from his home and adopted.
"The thing is, what the child is going through is not their fault," Yeary said. "So many of them don't know who the Lord is and they have this fear and pain of not knowing what's next."
In 2017, Universal Roofing and Exteriors launched Good Works in the Community.
Two to three times a year, the company finds a project that it can support. They donated the roof to Boone County's So Big Mountain House and plan to donate a roof to Wheeler Mission this spring, among many other charities they have worked with over the years.
"I want employees to get involved. They bring ideas and we often wonder, "What's in your heart? What should we do to help someone? "said Yeary.
For Isaiah 117, Yeary hopes that with the love the organization wants to give foster children, they'll start to hope for the best.
"I was very poor, but I always knew I had the Lord," Yeary said. "Our job is to help children and help others and we can do that through the Lord."
One of Wiggs' missions this year is to reach Hendricks and Montgomery counties. The Isaiah 117 house is for tri-counties, even though it is located in Boone.
"We've gone to great lengths to saturate Boone County with information, but I plan to reach out to Hendricks and spread the word," Wiggs said. "We need financial support and lots of prayers."
Wiggs said Isaiah 117 is always looking for volunteers to serve in the home, including those with business expertise like electricians, plumbers and others. They have an Amazon wishlist available and are planning fundraisers over the next few months for their cause.
"We need prayers because we truly believe this is a mission from God and we will get there, but only through him," Wiggs said.
For more information, visit the website at https://isaiah117house.com. Information on universal roofs and exteriors can be found online at https://www.universalrfg.com/our-company.