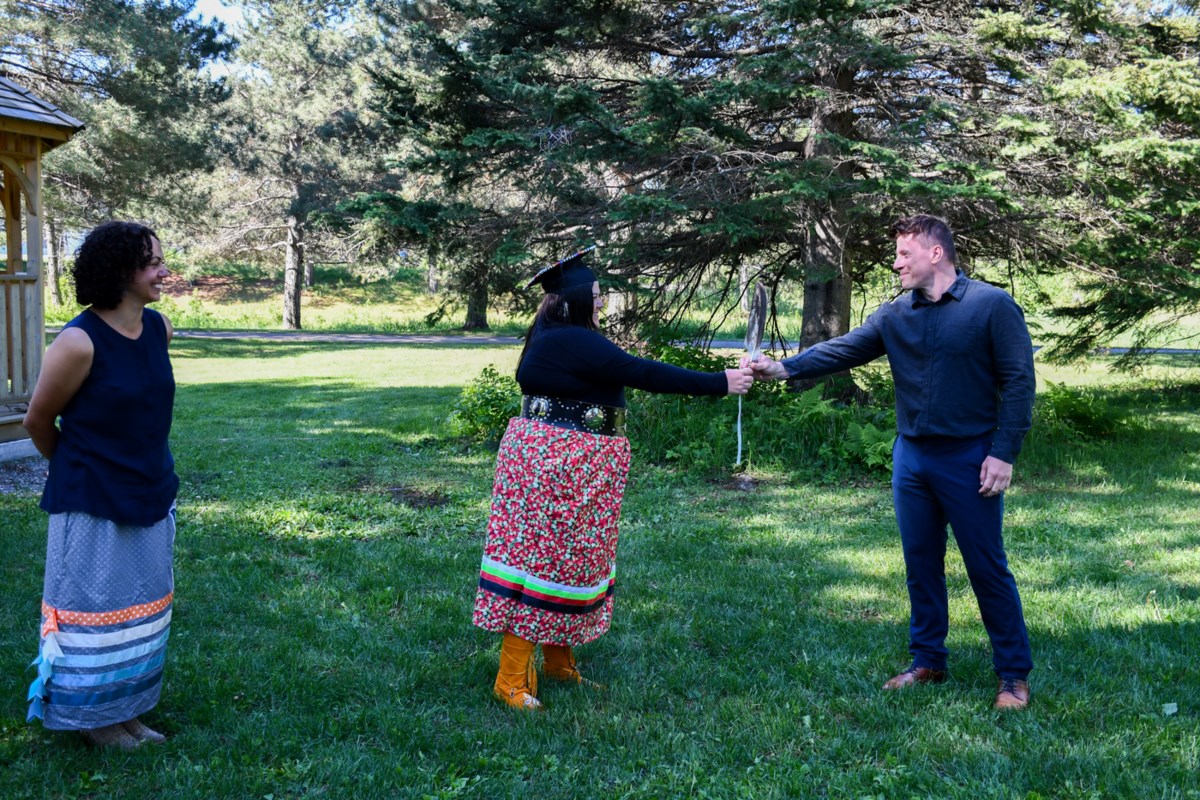 Confederation College program transformed "to further support decolonization" (2 photos)
College President Kathleen Lynch says it will help reconciliation and healing
THUNDER BAY – Confederation College on Wednesday announced a new name for its Native Child and Family Services program.
It is now known as Onajigawin Indigenous Services.
Onajigawin is an Anishinaabemowin word meaning "to be prepared for the work you will do as a helper".
The new name was chosen in conjunction with curriculum changes that the college says will ensure students are educated to diverse populations "in an anti-oppressive manner."
Program coordinator Pam Burton said a review was launched in 2019 with the aim of better reflecting the contemporary context and the reality of graduates' work to support Indigenous children, families and communities.
The process involved representatives from the entire college community as well as 12 partner organizations.
"Change is never easy, but absolutely necessary on the path to cultural humility," said Burton, adding that the program's new vision will prepare graduates with a greater emphasis on decolonizing systems in the field. human and community services.
Curriculum development and evaluation will take a decolonized approach, and graduates will leave school "prepared with a basket full of culturally safe tools, which they will need to walk safely with those they will help." said a statement released by the college.
Courtney Forbes graduated in 2021 from the former Native Child and Family Services program.
She said the renewal of the program means hope and a new beginning.
"This is what the ancestors expected, the first step in the right direction. Training for Anishinaabe and non-Anishinaabe to help people in the community.
Forbes added that she would like to see more Indigenous people helping their families for a sense of community.
"We also need strong allies, help to learn the ways and go with a good goal to support Aboriginal families. "
Advisory committee chair Serena Essex of the Thunder Bay Indigenous Friendship Center called the new direction "very respectful of land reclamation and core values ​​of being traditional aid."
The program will welcome its first class in fall 2021.
It is offered on all Confederation campuses and via distance education.
College President Kathleen Lynch said Onajigawin's Indigenous Services Program is one of the many ways the college contributes to reconciliation and healing.
Have you spotted the latest news? Police, firefighters and other stories of interest to our community? Then we want to hear from you. If we use your photo or your tip leads to a story being posted on our site, you will be entered into a raffle for a monthly prize. Send us your photos and your news and win!